EMPLOYMENT
DO YOU HAVE WHAT IT TAKES TO BE AN INTEGRAL PART OF THE FASTEST GROWING INDUSTRY IN PENNSYLVANIA?


Working in the Marcellus Shale oil industry in Pennsylvania offers very unique challenges for GAS WELL SERVICES employees. Most job site locations are rural and remote, 12 hour shifts are standard, 24/7/365 days a year we are working. The rewards are outstanding... for the right person! The scenery is spectacular, the people you meet and work with are interesting, the shifts allow for plenty of days off (while still maintaining full-time hours), the pay is good and working in the PA Gas industry offers great job security.
GAS WELL SERVICES supplies all employees with the training to do their job correctly and safely, safety vests, hard hats and uniforms. All employees are required to supply their own safety, steel-toed boots and appropriate weather gear (rain, snow, ice).

Blank applications can be acquired by either emailing our office for an editable PDF, or by stopping by our office in Jersey Shore Monday-Friday during normal business hours for a hard-copy application. We are always accepting applications.
CLICK HERE FOR PRINTABLE VERSION
Our requirements
Solid work history showing dependability and punctuality
Legal U.S. citizens with at least a high school level ability to read, write and speak English
Professional mannerism and presence
Computer literate (PC or MAC)
Pre-employment drug test
Cell phone/voicemail and email account
Respect for the job, rules, clients, fellow employees and company protocols
Valid Pennsylvania Drivers License
Dependable transportation in all weather conditions
Ability to work day or night, 12+ hour shifts, in all weather conditions.
GWS conducts criminal background checks on all employees prior to interview.
current opportunities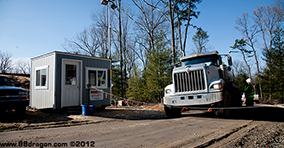 GAS WELL SERVICES is always growing and hiring!
We generally hire only for full-time positions (42 hours per week). All employees must be able to work days and nights and at least one weekend day/night. We do occasionally accept applications and hire part-time employees as "floaters/fill-ins" in case of call-offs or scheduled vacations. We are always accepting applications and we do hire on a steady basis.
Work shifts are typically 3.5 days for a total of 42 hours. Part-time work is available on a limited basis. All duty stations MUST be staffed 24/7/365, rain or shine! Excessive call-offs are closely scrutinized and if patterns are noticed this can be grounds for discontinued employment with GWS. More than 3 days of call-offs within the first ninety days of hire are grounds for employment termination. Our clients rely on us to keep their well sites secure and we rely on our guards to be responsible to their shift, job and fellow guards.
GUARD STATION
Well pad personnel accountability logs
Monitoring suspicious behavior
Completing daily shift logs of all activities
Thorough sign-in of all vehicles and personnel
Limiting access to the well pad
Radio communications with the well pad during emergencies
TRAFFIC CONTROL
Controlling the safe travel of vehicle traffic on limited-access roadways
Staging truck traffic for safe and timely travel to and from well pad
Monitoring road conditions
Radio communications with truckers and other traffic control stations
ROVING PATROL
Driving pre-designated routes, during the entire shift, in GWS vehicles.
Monitoring suspicious behavior
Maintaining a shift log of observations during each route circuit
Radio communications with base station
Monitoring road conditions
PRE employment
Pennsylvania state law, requires us to conduct thorough criminal background checks on all potential employees and we conduct random checks on current employees. We can not and will not hire employees with any type of Felony offense and certain types of Misdemeanor offenses will also disqualify potential applicants.
Work history verification is utilized for every applicant. We are checking for work history, punctuality and dependability.
Personal references are contacted and verified for moral and ethical temperament and history.